Join the International Symposium on Digital Transformation at Linnaeus University 15-16 February 2022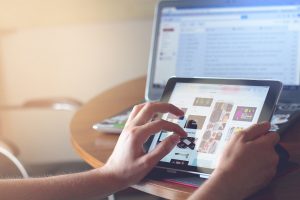 The International Symposium on Digital Transformation is a two-day free global event, held both online and at the Linnaeus University campus between 15th and 16th of February 2022. This interdisciplinary event is open for everyone to participate and connect subjects, departments and faculties to approach different societal challenges affected by digitalization. Both national and international researchers and working professionals within societal, cultural, economic and/or political transformations enabled by digital technologies will participate. This is an opportunity for Småland Blekinge Halland and international actors within the region to get a better understanding on how to meet societal challenges with digitalization and digital technology.
Electronic patient records in healthcare and driverless public transports are just a few examples of digital transformations and innovations in the society. Through digital components such as sensors, data storage, analysis software and 4G connectivity, transformations within e.g. healthcare and education have been enabled. The idea behind this symposium is to get a greater understanding of what digital transformation entails and to imagine what it can bring to our future society and businesses.
The symposium focuses on seven different tracks:
Digital Business – addressing digitalization and digital transformations within businesses and organizations
Digital Learning – addressing digital technologies within education and learning
E-Health – addressing application of digital technology in nursing and care
Digital humanities – addressing intersection of computer science and the humanities
Ethical Implications of Digitalization – ethical concerns resulting from the proliferation of digital technologies and their infusion in all aspects of our lives
Digital working life – addressing how digitalization changes and influences work environments
General Track – addressing other topicsg. digital divide and automation
In the end of every track there will be an opportunity to have an open discussion about the affected subjects. If you are interested in participating in this event more information and the full program is available here. Registration needs to be completed before noon on February 14th 2022.
Registration for International Symposium on Digital Transformation for FREE
This event is organized by Linnaeus University, Växjö.